Film review: Fire in Babylon
This recently released film is a must-see for ALL cricket fans. It tells the fascinating story of the heyday of West Indies cricket, in the 70s and 80s. Led by the charismatic Clive Lloyd, the team included some of the greatest names in cricketing history: Viv Richards, Gordon Greenidge, Andy Roberts, Malcolm Marshall, Michael Holding, Joel Garner, ...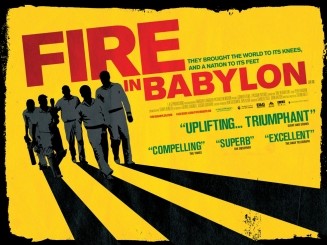 Fire in Babylon website:
http://www.fireinbabylon.com/
Fire In Babylon reviews
Mirror online
(
http://www.mirror.co.uk/celebs/film/2011/06/06/fire-in-babylon-review-115875-23183862/
)
For 15 years or more just the thought of walking out to bat and having Malcom Marshall or Andy Roberts or Michael Holding, or Joel Garner or Colin Croft steaming into bowl at you would be enough to send men into meltdown.
Unfortunately for some, they actually had to go out into the middle and do it for real.
Internet Movie Data Base (IMDB)
(
http://www.imdb.com/title/tt1727790/
)
The story is told entirely from the West Indians' point of view, and in their own words - this is not so much a discussion as a celebration of an inarguably glorious period of sporting history. The list of contributors is a cricketing hall-of-fame roll call: Richards, Lloyd, Holding, Roberts, Greenidge, Haynes, Garner and more are joined by other significant names from Caribbean culture. All are hugely entertaining orators who could easily have kept this relatively short production going for another 3 hours.